On May 19, 2021, I stepped out of my Baltimore rowhouse, kissed my wife, Lynn, goodbye and set off for Washington, DC on foot. I've carried this walk in my back pocket for several years. With the pandemic keeping me close to home, the time had come to put this hike down. Camping was out since I would be on private or federal land almost the entire way so I stayed in hotels. The hike would take three days and Lynn would drive out and meet me at the end of each journey. With a setup like that who would want to camp?
A little over a mile from my house, I walked past the old Metro West complex on North Greene St. I worked here from 1982-1986 as a claims authorizer for the Social Security Administration. This was just before starting my long career at SSA as a computer programmer. I retired in 2015. Metro West was abandoned by SSA years ago and the building has been vacant ever since. There have been multiple plans to develop the space but nothing has ever taken off.
First shortcut of the day outside the Wheelabrator, Baltimore's massive trash incinerator.
Four miles from the house, I got past the scruffy neighborhood of Westport and entered my first patch of woods, a skinny vein of trees with the Light Rail and CSX tracks fifty yards to my left and warehouses on the right. Heaven on earth.
Leaving Baltimore behind, I followed a network of utility and ATV trails along the lower Patapsco river heading west towards the old town of Elkridge. When I arrived at the main Amtrak line, I was forced to break my rule about walking on pavement. In the past, I'd run across the Amtrak bridge to get to the other side of the river before a train came barreling through. This time I encountered a security vehicle so I got up onto the Harbor Tunnel Expressway and walked along the shoulder of the highway in order to cross the tracks below. It was just as well because an Acela and two Metroliners roared over the bridge as I crawled underneath the highway fencing.
Colonial Petroleum Pipeline - Hanover, MD. 14.5 miles.
The first time I used this tunnel to cross the Baltimore-Washington Parkway was 25-30 years ago and I've done this route several times since. It's only about four feet high. During my first crossing, there was a tremendous thunderstorm and I'd crouched 
inside the tunnel to wait for it to pass. At some point, my legs started getting cold and I looked down. What had been a small trickle of water was now rising quickly towards my waist. By the time I reached the end of the tunnel, I was wading and swimming my way out to avoid drowning.
The rules were the same: no pavement or asphalt unless absolutely necessary. 85-90% of this trek would be through woods, fields and open green areas. I didn't bring a map because I know all of the different paths, animal trails and bushwacking routes very well. I used two pairs of running shoes. The boots stayed home because they are useless once they get water-logged.
Constructions sites like this are the cost of doing business when hiking the Baltimore-Washington corridor. Trees are coming down faster than in the Brazilian Amazon. I knew that my window of opportunity for doing a decent through-hike was a narrow one. Five years from now, much of this area will be completely paved over like southern Florida.
Morning, Day Two. One of the many blessings of my life has been good eyesight. At age 62 I still don't wear glasses. When the binoculars started to rotate in my direction, I quietly scooted back into the forest. Jessup Correctional Institute. Twenty-four miles.
Crossing Rt. 32. The socks came off, the running shoes stayed on.
A beaver dam next to two juvenile detention centers: The Maya Angelou Academy at New Beginnings and Capital Guardian Youth Challenge Academy. The pond behind the dam is a large one that stretches all the way to the trees in the far back.
After a couple of river crossings, I reached the main power line that runs east of Laurel and followed this into the forest south of Rt. 198. The outside temp had reached 90 degrees. 
North Tract Forest outside Ft Meade. This is an eight-thousand acre parcel of forest acquired in the early 1990s from the U.S. Army. It was cleared of unexploded ordnance and turned into part of the large Patuxent Research Refuge. I've been hiking this forest since the early 80s and I can still remember going to the ground whenever the choppers flew low or soldiers patrolling the trails marched by. It's now open to the public and is a fantastic place to get lost in.
At the end of each day, I'd spend some quality time looking for and removing ticks from my legs and other hidden parts of my body. There were big ones and little ones, never less than a dozen. Some were still looking for a target, others had found theirs. This is a ritual I never avoid.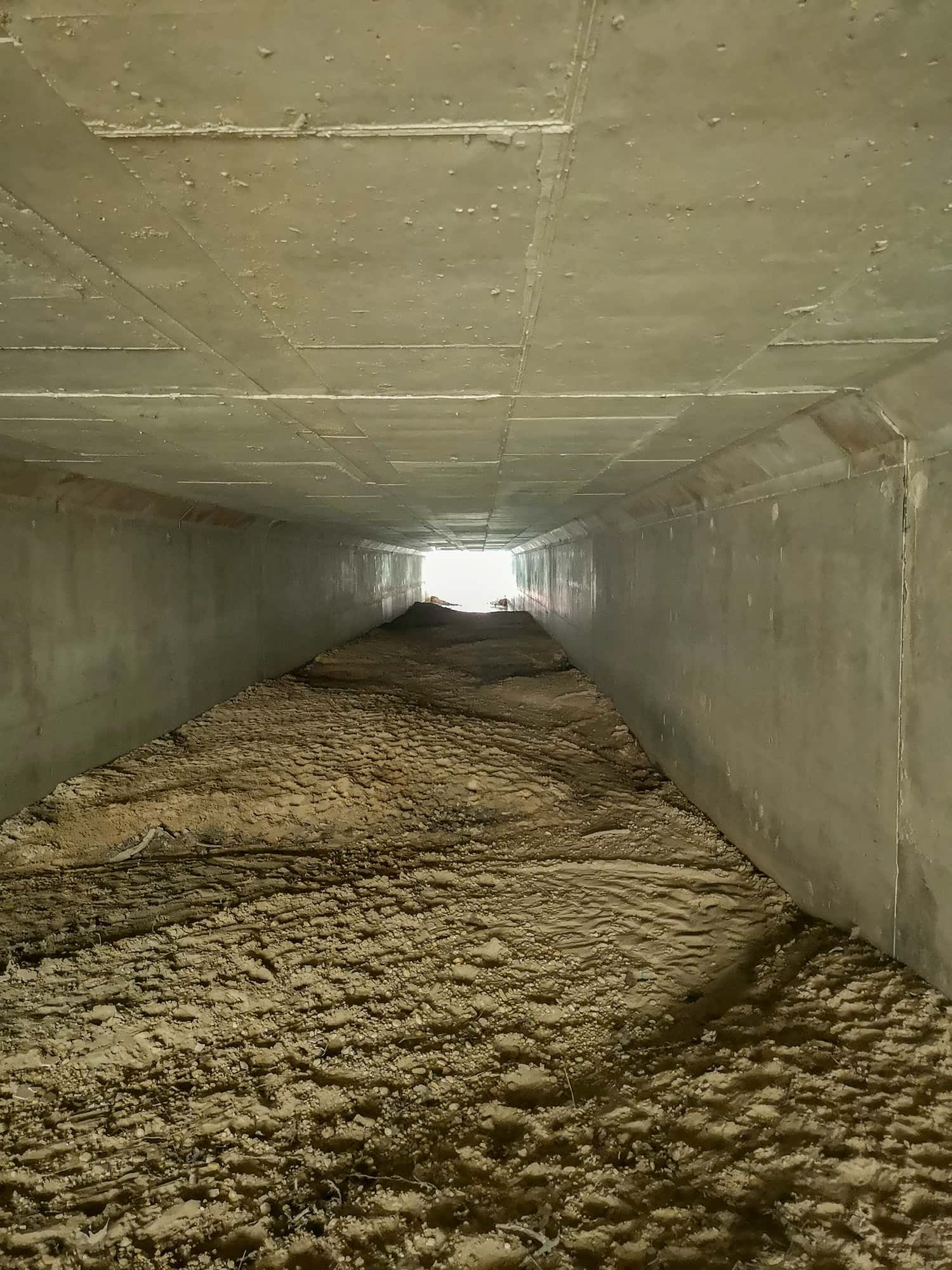 Forest near Beltsville, MD. Thirty-seven miles. On the west side of MD 295, between Laurel and Beltsville, is the enormous USDA property. It is generally off-limits to hikers although its roads are popular with bicyclists. I could have continued on the other side of the parkway but that would have meant going past the James J. Rowley Training Center for the U.S. Secret Service as well as the Goddard Space Center. Both of these areas are even more off-limits than the USDA. The USDA forests are big and open. So long as I stayed out of the fenced-in areas where the pesticide tests will make your hair fall out, I figured I could push through to Beltsville without causing any trouble.
Day Three. Forest near Greenbelt. I was now inside the Capital Beltway. Forty-three miles.
Unlike Baltimore, DC has an extensive network of bike paths and park trails that criss-cross the metropolitan area. For this hike, I chose the Anacostia River Trail right-of-way as my way of getting into the city without walking on any pavement. 
Sign announcing a shortcut.
Practice field, RFK Stadium. The final vestiges of grass (astro turf) before hitting the sidewalks.
Just as I make every effort to avoid walking on man-made surfaces in wooded areas, I also avoid stepping on grass or plants once I'm in the city. Capitol Heights, DC.
I took this photo of the Supreme Court twenty years ago. Today, there is a low fence barrier and a security guard patrolling the exterior grounds so I couldn't repeat the shot. 
From the Supreme Court, I walked on to Chinatown and had my favorite plate of Cantonese pan-fried noodles with shrimp at the New Big Wong. Fifty-eight miles from home to Wong. It was another mile to Union Station where I unravelled three days of hiking into a one hour train ride back to Baltimore.